Say Goodbye to the Bagged Lunch!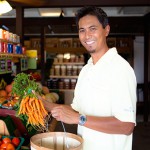 Parent Benefits:
Time. While we hate to admit it, we know how making lunches for your kids can sometimes feel like a chore. Well, it doesn't have to be anymore. With our easy online calendar ordering system, you can see the menu and order as much as 6 weeks in advance. And for those on-the-go, we offer a mobile app, too! We give you back your time to enjoy as you please while we take care of preparing your kids' lunches.
Fresh and Nutritious. Our meals are made fresh daily with the highest quality ingredients, organic where possible, and with no preservatives or artificial ingredients. With quality ingredients come nature's intended nutrients that your kids need to thrive. And should food sensitivities be a concern, nutrition facts are available for every item on the menu so you'll know what is going in your kids' bodies.
Taste. We believe healthy lunches don't need to taste bad, and that's why we never sacrifice flavor. Say goodbye to ordinary. We offer a wide selection for you and your kids to choose from where even the pickiest kids will find something they love.
Ultimately, it's all about You. YOU know that there has to be an easier way to have lunches ready for your kids, and there is!